Discover Unmatched Elegance: Fall Sale on Palram Canopia Gazebos and Sheds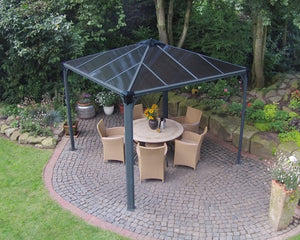 As the leaves start to change and the days get a bit crisper, it's the perfect time to enhance your outdoor living space and ensure your belongings are well-protected during the fall and winter months. At Awnings-Canada, we're thrilled to announce our exclusive fall sale on Palram Canopia Gazebos and Sheds. It's your chance to elevate your outdoor experience and safeguard your valuable items at incredible prices.
Featured Palram Canopia Gazebos and Sheds:
Martinique 4300 Gazebo: Create an outdoor oasis with the Martinique 4300 Gazebo. Its stunning design and ample space make it an ideal choice for entertaining guests or enjoying quiet moments in your garden.

Palermo 3000 Gazebo: The Palermo 3000 Gazebo offers a perfect blend of style and functionality. With its contemporary look and durable construction, it's an excellent addition to any outdoor setting.

Milano 3000 and 4300 Gazebos: The Milano series provides flexibility in size while maintaining the elegance and quality that Palram Canopia is known for. Choose the Milano gazebo that suits your space and lifestyle.

Yukon Shed 11x9 and 11x13: When it comes to storage, the Yukon Sheds have you covered. These spacious and weather-resistant sheds are perfect for housing tools, equipment, and seasonal items, ensuring they stay safe and organized.
Why Choose Palram Canopia Gazebos and Sheds?
Palram Canopia is synonymous with innovation, durability, and design excellence. Here's why you should consider Palram Canopia Gazebos and Sheds:
UV-Resistant Materials: Palram Canopia structures are built to last, thanks to their UV-resistant materials that withstand the elements and maintain their beauty.

Easy Assembly: You don't need to be a DIY expert to set up a Palram Canopia Gazebo or Shed. Detailed instructions and included hardware make assembly a breeze.

Versatile Design: The elegant designs of Palram Canopia Gazebos and Sheds complement various architectural styles, making them a seamless addition to any outdoor space.

Protection and Storage: Keep your belongings safe and organized year-round with Palram Canopia Sheds, ensuring they're shielded from harsh weather conditions.
Limited-Time Fall Sale
Don't miss the opportunity to transform your outdoor living space and enhance your storage capabilities at a fraction of the cost. Our fall sale on Palram Canopia Gazebos and Sheds is your chance to create the outdoor retreat you've always dreamed of or secure your valuable equipment and tools with style and confidence.
Visit our website or visit our store today to explore the complete range of Palram Canopia Gazebos and Sheds available during our fall sale. These exclusive deals won't last long, so act now to make your outdoor space more inviting and your storage solutions more reliable.
At Awnings-Canada, we're dedicated to helping you make the most of your outdoor spaces. Join us this fall in transforming your garden into a haven of relaxation and functionality with Palram Canopia Gazebos and Sheds.
Embrace the beauty of the outdoors – with Palram Canopia, your outdoor dreams come true.