Canopia by Palram Carports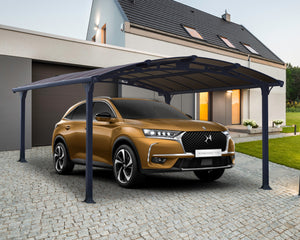 Canopia by Palram carports are an excellent solution for those who need a reliable and durable shelter for their vehicles. These carports are designed to offer protection from the elements while being easy to install and maintain.
One of the key features of Canopia by Palram carports is their sturdy and robust aluminum frame. The frame is rust-resistant and built to withstand extreme weather conditions, making it ideal for outdoor use. The carports also feature high-quality polycarbonate roof panels that provide excellent UV protection while allowing natural light to enter the space.
Canopia by Palram carports are available in a range of sizes and designs to fit different needs and styles. They are also customizable with optional accessories such as gutters, anchors, and side panels to enhance their functionality and aesthetics.
Installation of Canopia by Palram carports is relatively easy and can be done by two people within a few hours. The carports also require minimal maintenance, making them a hassle-free solution for protecting your vehicles.
Overall, Canopia by Palram carports offer an excellent balance of function and aesthetics, providing a reliable and stylish shelter for your vehicles. With their sturdy aluminum frame, high-quality polycarbonate panels, and customizable features, they are an ideal choice for anyone looking for a durable and easy-to-install carport solution.