Palram Canopia's Dallas Gazebos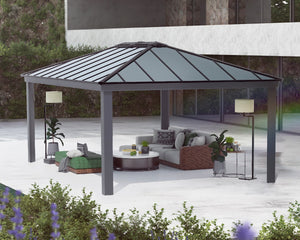 When it comes to transforming your outdoor space into a stunning retreat, Palram Canopia's Dallas Gazebos are a true game-changer. These remarkable structures combine beauty, functionality, and durability, providing the perfect setting for outdoor relaxation, entertainment, and leisure.
The Dallas Gazebos stand out for their exceptional craftsmanship and attention to detail. Constructed with high-quality materials, including a robust aluminum frame and polycarbonate roof panels, they offer unmatched strength and longevity. Designed to withstand the harshest weather conditions, these gazebos provide year-round protection and comfort, ensuring that your outdoor experience remains enjoyable, regardless of the season.
One of the standout features of the Dallas Gazebos is their versatility. Available in various sizes, including 12x14, 12x20, 14x16, and 14x20, they can be customized to suit your specific needs and preferences. Whether you envision a cozy outdoor lounge area, a stylish dining space, or a sheltered oasis for relaxation, there is a Dallas Gazebo size that will seamlessly integrate into your outdoor landscape.
The polycarbonate roof panels of the Dallas Gazebos are not only aesthetically pleasing but also highly functional. These panels are UV-protected, shielding you and your guests from harmful sun rays while still allowing natural light to filter through. Additionally, the panels are designed to be impact-resistant and virtually unbreakable, providing peace of mind during inclement weather.
Another remarkable feature of the Dallas Gazebos is their ease of installation. With Palram Canopia's user-friendly assembly system and comprehensive instructions, you can have your gazebo up and ready in no time. The precision-engineered components ensure a seamless fit, guaranteeing a sturdy and secure structure that will withstand the test of time.
In addition to their durability and functionality, the Dallas Gazebos boast a timeless and elegant design. Their clean lines and modern aesthetics make them a focal point in any outdoor setting. Whether you have a contemporary urban garden or a traditional backyard, the Dallas Gazebos effortlessly blend in, elevating the overall ambiance of your outdoor space.
Furthermore, the Dallas Gazebos offer the opportunity for customization and personalization. With optional accessories such as curtains, mosquito netting, and privacy walls, you can tailor your gazebo to suit your specific requirements. These accessories not only add a touch of style but also enhance the functionality of your outdoor sanctuary.
In conclusion, Palram Canopia's Dallas Gazebos are the epitome of outdoor elegance and practicality. From their superior craftsmanship to their customizable features, they provide a perfect balance between style and functionality. Whether you're seeking a sheltered space for entertaining guests or a peaceful retreat for personal relaxation, the Dallas Gazebos are the ideal solution.
Invest in the beauty and functionality of Palram Canopia's Dallas Gazebos, available in sizes 12x14, 12x20, 14x16, and 14x20, and create a captivating outdoor space that you can enjoy year-round. With their durability, versatility, and timeless design, these gazebos will undoubtedly become the centerpiece of your outdoor oasis.