Palram Canopia's Stockholm Patio cover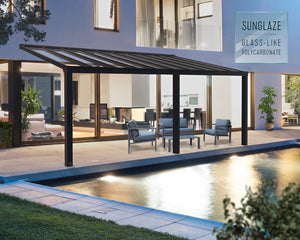 When it comes to enhancing our outdoor spaces, we all desire a combination of functionality, style, and durability. The Palram Canopia Stockholm Patio Cover emerges as an exceptional solution, offering an elevated outdoor living experience that seamlessly blends aesthetics with practicality.
Designed with meticulous attention to detail, the Stockholm Patio Cover is a testament to Palram Canopia's commitment to excellence. Crafted using high-quality materials, this patio cover not only withstands the elements but also adds a touch of sophistication to any outdoor setting.
One of the standout features of the Stockholm Patio Cover is its versatility. Whether you have a cozy patio, a spacious deck, or a sprawling garden, this cover effortlessly adapts to various outdoor spaces. Its modular design allows for easy customization, ensuring a perfect fit for your specific needs and preferences.
With the Stockholm Patio Cover, you can bid farewell to weather-related concerns. Its robust polycarbonate panels provide superior protection against harmful UV rays, while also being impact-resistant and virtually unbreakable. This means you can enjoy your outdoor space year-round, shielded from both the scorching sun and the elements of nature.
Not only does the Stockholm Patio Cover provide shelter, but it also adds a touch of elegance to your outdoor area. The sleek, modern design complements any architectural style, making it an eye-catching addition to your home. Its clean lines and minimalist aesthetic create a contemporary oasis, inviting you to relax and unwind in style.
Installation of the Stockholm Patio Cover is a breeze, thanks to its user-friendly assembly system. With detailed instructions and a simple DIY approach, you can transform your outdoor space into a haven of comfort in no time. Additionally, the cover's sturdy aluminum frame ensures long-lasting durability, requiring minimal maintenance.
Whether you envision it as a shaded retreat for outdoor dining, a cozy lounging area, or a protected space for outdoor gatherings, the Stockholm Patio Cover delivers on all fronts. It provides the perfect balance between form and function, allowing you to make the most of your outdoor living space throughout the year.
In conclusion, the Palram Canopia Stockholm Patio Cover is a game-changer in outdoor design and protection. Its exceptional craftsmanship, versatility, and aesthetic appeal set it apart from the rest. By investing in this premium patio cover, you're investing in a superior outdoor living experience that combines style, durability, and peace of mind.
Take your outdoor space to new heights with the Palram Canopia Stockholm Patio Cover and indulge in the beauty of nature while enjoying the comfort and elegance it provides.
Invest in the beauty and functionality of Palram Canopia's Stockholm Patio Covering, available in sizes 11x12, 11x17, 11x19, 11x22, 11x24, 11x26 and 11x31, and create a captivating outdoor space that you can enjoy year-round. With their durability, versatility, and timeless design, these Patio Covers will undoubtedly become the centerpiece of your outdoor oasis.