Summer Special Sale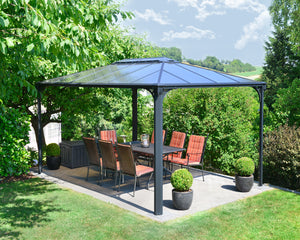 Summer is the perfect time to enhance your outdoor living space, and Awning Canada has exciting news for you. They are currently offering a special summer sale on selected Yukon Sheds and selected Gazebos, providing a fantastic opportunity to upgrade your backyard with versatile storage solutions or a stunning entertainment area. Let's explore the unique features and benefits of both the selected Yukon Sheds and Gazebos and how you can take advantage of this exclusive offer.
Selected Yukon Sheds: Practical and Versatile Storage Solutions
Versatile Outdoor Storage:
During this special summer sale, Awning Canada has carefully handpicked the most popular Yukon Sheds that offer ample storage space for your belongings. Whether you need to store gardening tools, bicycles, outdoor furniture, or other items, these chosen sheds provide the perfect solution. Choose from different sizes and configurations to accommodate your specific storage needs.
High-Quality Construction:
Awning Canada ensures that the selected Yukon Sheds are built to last. These durable structures feature sturdy materials and excellent craftsmanship, providing long-lasting protection for your stored items. With their reliable construction, you can trust that your belongings will remain safe and secure, even during harsh weather conditions.
Selected Gazebos: Elegant Outdoor Entertainment Spaces
Stylish Outdoor Entertainment:
In addition to the selected Yukon Sheds, Awning Canada also offers a variety of selected Gazebos to elevate your outdoor entertainment experience. These stunning structures create an inviting and stylish space for relaxation, socializing, or enjoying meals with family and friends. With their eye-catching designs, the selected Gazebos become a focal point in your backyard, combining aesthetics and functionality.
Special Summer Sales Offer:
Awning Canada's special summer sales on selected Yukon Sheds and Gazebos provide an excellent opportunity to enhance your outdoor living space. Take advantage of discounted prices and exclusive deals on these exceptional structures. By participating in this sale, you can save significantly while upgrading your backyard with either a practical storage solution or an elegant entertainment space.
How to Get Started:
To explore the available options and take advantage of Awning Canada's special summer sales, visit our SUMMER SALE website page or contact our  customer service team. Our knowledgeable staff will guide you through the selection process, helping you choose from the carefully selected Yukon Sheds and Gazebos that best meet your specific needs and preferences. They will also provide any additional information you may require.
Conclusion:
Awning Canada's special summer sales on selected Yukon Sheds and Gazebos offer an incredible opportunity to transform your outdoor living space. Whether you're in need of a practical storage solution with the selected Yukon Sheds or desire an elegant entertainment area with the selected Gazebos, Awning Canada has you covered. Don't miss out on this limited-time offer to save on these exceptional outdoor additions and create a functional and stylish oasis in your own backyard.